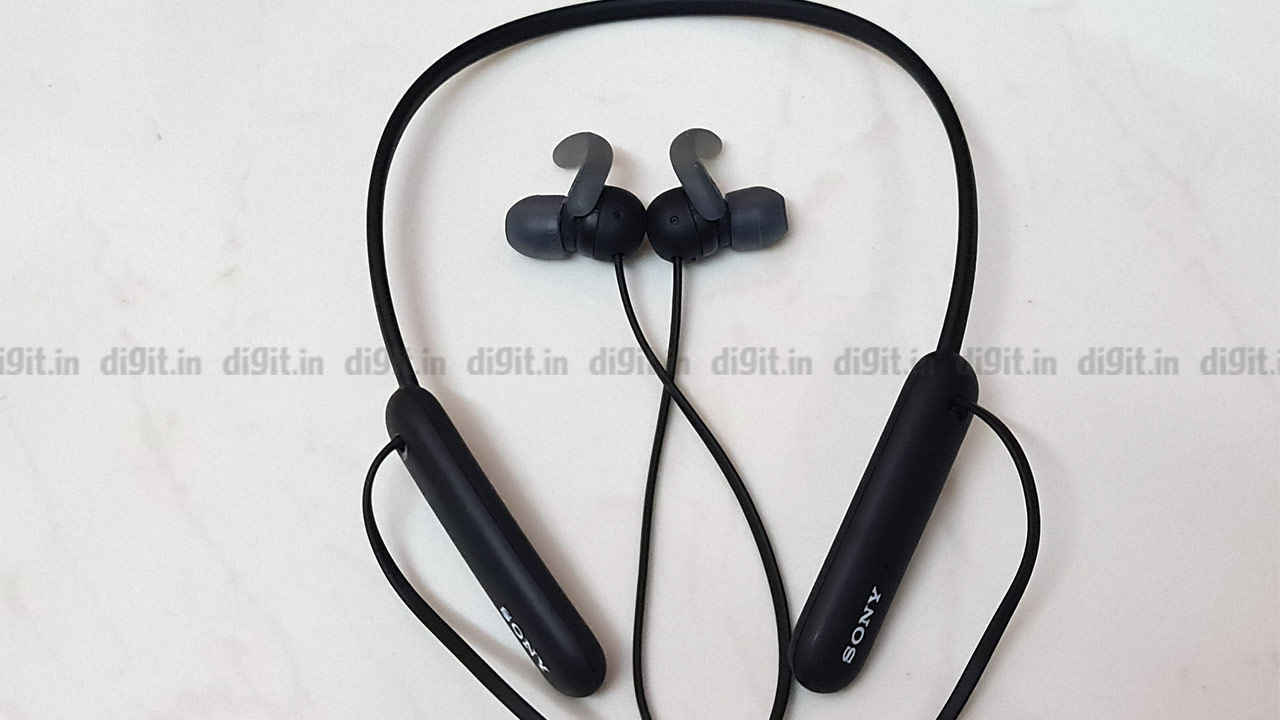 [ad_1]

Sony has consistently offered solid audio products for years now, with the Sony WH-1000XM3 over-ear headphones and the Sony WF-1000XM3 true wireless earphones being best in class products that will appease most users. Nevertheless, the products from Sony that garner the most fanfare, and rightfully so, are the premium offerings, while the mid-range offerings from the company are usually farther from the limelight. Nevertheless, Sony does have a couple of stellar products even in the mid-range segment. So, in this review we will be evaluating a new mid-range contender from Sony, the WI-SP510 wireless neckband-style earphones. Priced at Rs 6,990 and available for Rs 4,990 on Amazon and Headphonezone, the Sony WI-SP510 is part of both Sony's 'sports' lineup as well as its 'XB' – Extra Bass range of headphones. These earphones seem like an extremely lucrative purchase, on paper, at least. So, let's find out how the Sony WI-SP510 in-ear sports headphones fared in our review.
Build and comfort
Sporting a familiar neckband-style design, the Sony WI-SP510, stylistically, is extremely minimalist. Available in Blue and Black coloured options, the design is a tad monotonous and bland, especially the Black-coloured variant we received for review. The build is entirely plastic, but the quality doesn't feel cheap at all. The earphones have two compact, rounded plastic modules along with a semi-flexible plastic neckband.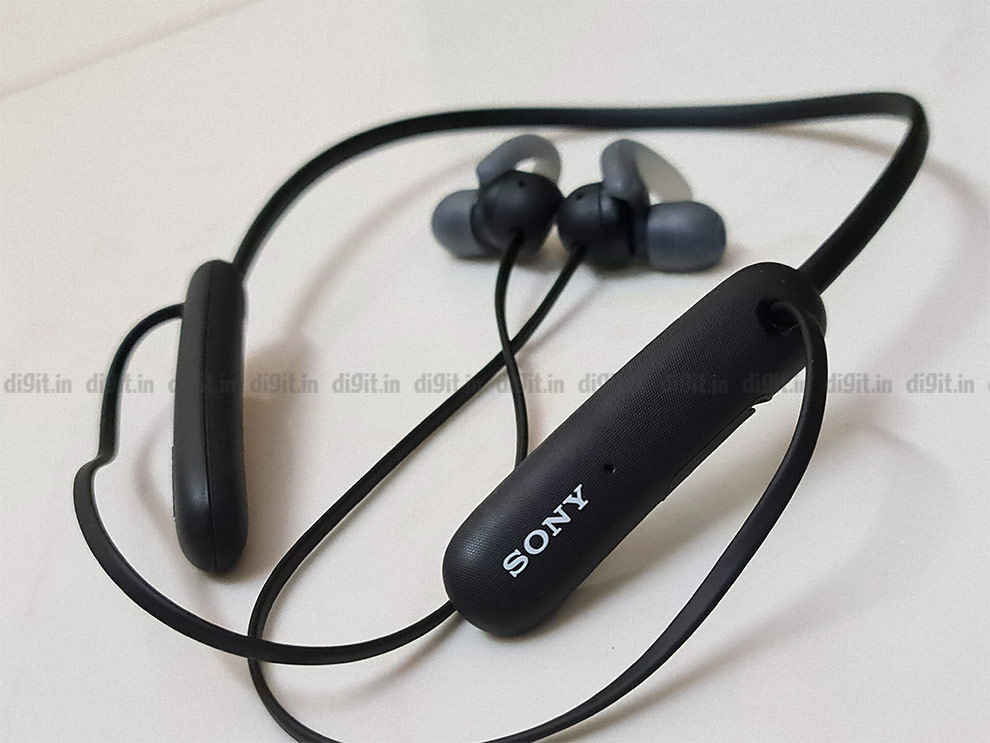 Now, the plastic-build lends itself to making the earphones extremely lightweight and portable. Weighing in at a mere 30g, the earphones can be easily stowed away in a backpack, or even smaller handbags. The weight of these new-gen earphones has increased in comparison to the previous model – the WI-SP500, however, the battery has also shot up considerably, with the WI-SP510 providing a whopping 15 hours of playtime in comparison to the WI-SP500's now-measly 8 hours.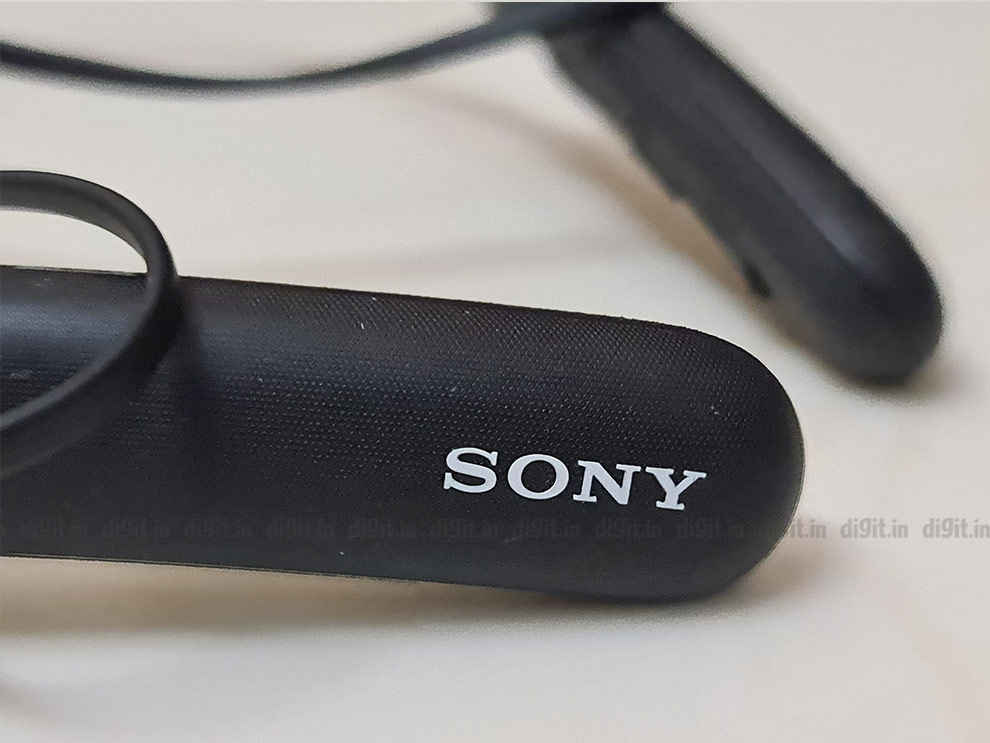 The earphones are well-suited for those leading an active lifestyle. Whether you go to the gym, go running, cycling, or jogging, the earbuds sit firmly within the ear and the neckband itself stays put snugly around the neck due to the front-leaning weight of the plastic modules. The snug fit of the earphones lends to great passive isolation as well, which makes them suitable for usage even during commute or in noisy office environments.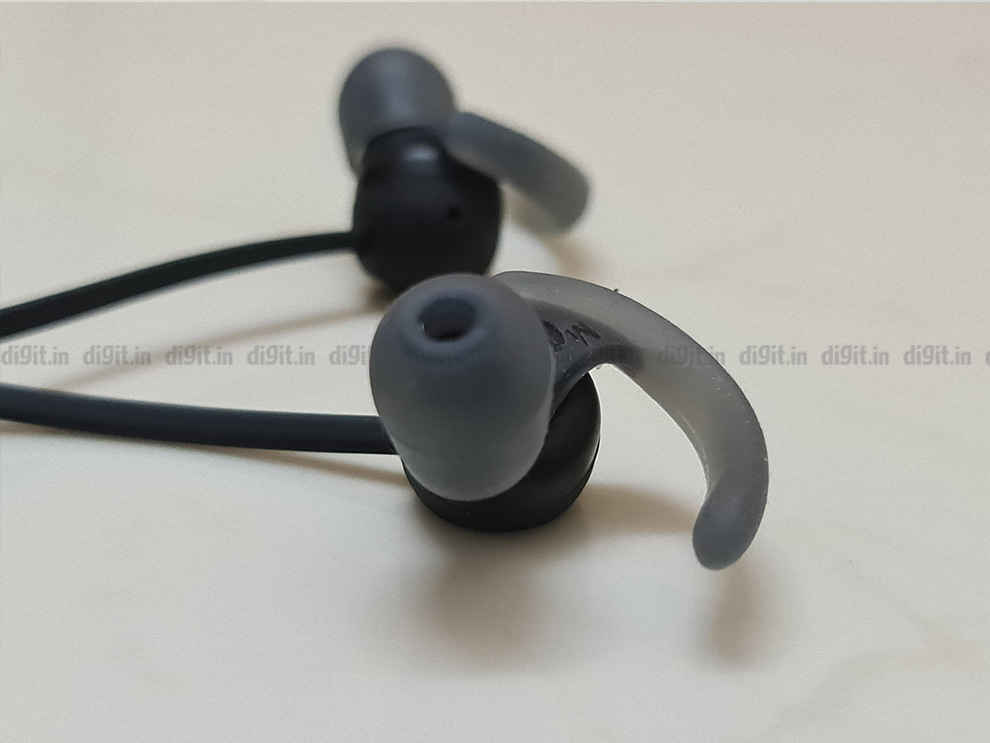 The earphones also come with both silicone eartips as well as silicone wings in different sizes – four pairs of silicone tips and three pairs of silicone wings. While we did manage to find a good fitting pair of eartips and wings, the wings did end up making the reviewer's ears feel quite fatigued after an hour of wearing them. This is partly since the reviewer has smaller than usual ears, so if you do too, keep this in mind.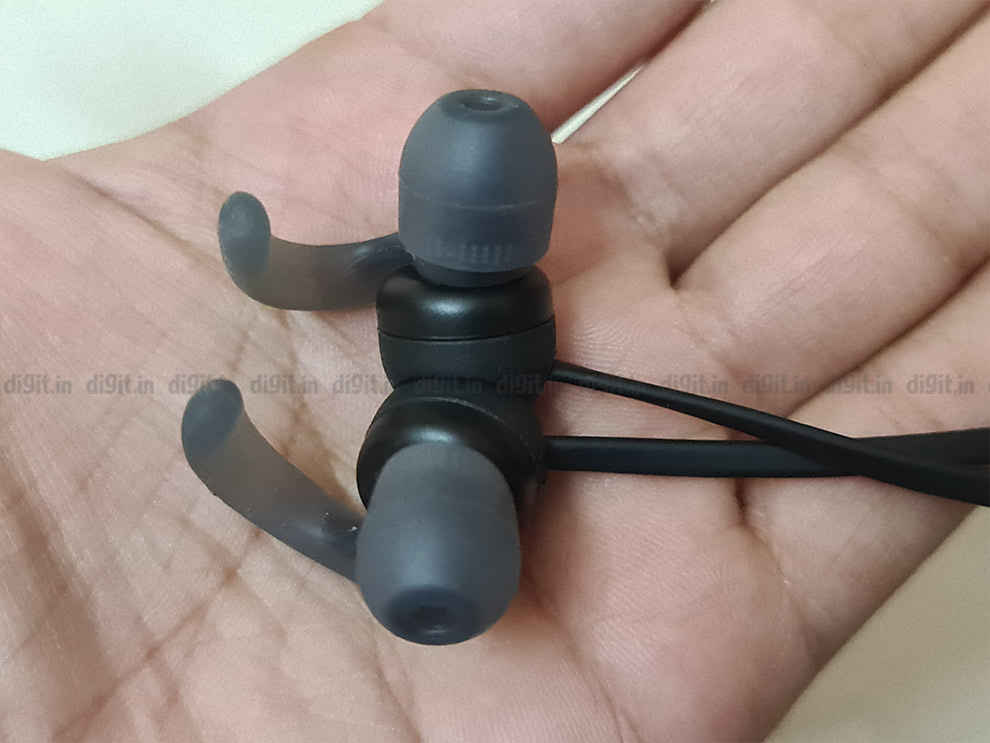 The earbuds are small and ergonomic, and the driver housings are magnetic, which allows them to clasp together when lying idle around your neck. Unfortunately though, there's no auto pause/play functionality tied to the magnetic housings as in OnePlus' wireless in-ear headphones. Additionally, the magnets are not as strong as we'd like them to be either.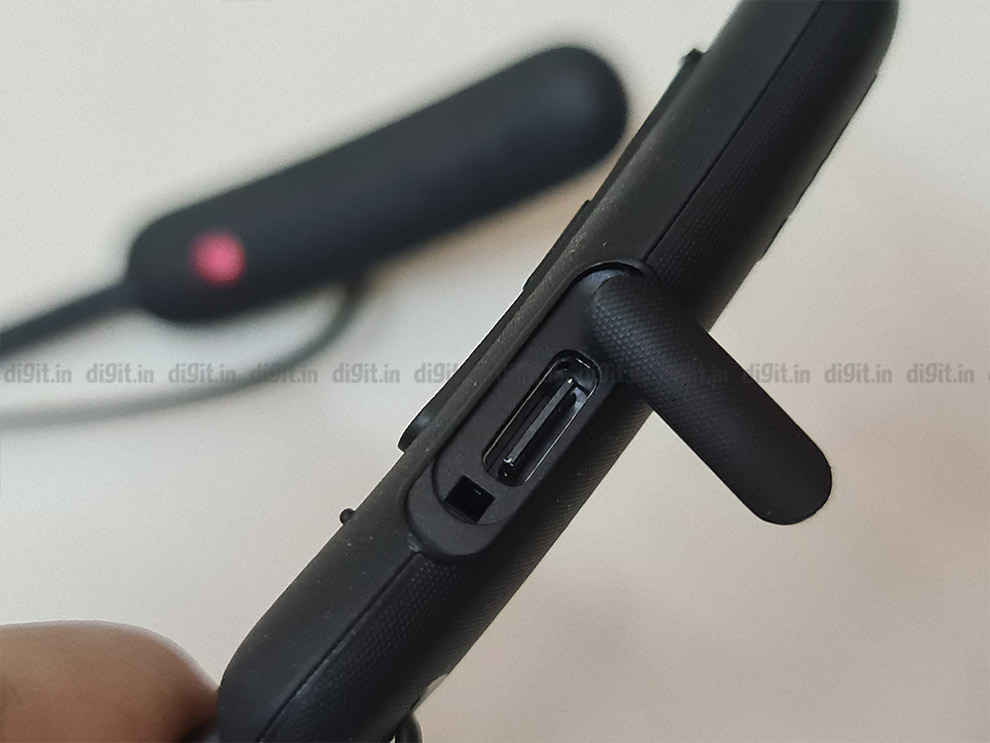 The controls are on the left side plastic module and are extremely user-friendly. The buttons are adequately-sized and have quite the tactility to them too. You can pause/play the music, skip tracks or go to previous tracks, increase/decrease volume levels and even summon your voice assistant with the commands. Unlike many wireless earphones' controls, the Sony WI-SP510 features simple and intuitive controls that just… work. Next to the controls, there's also the USB-C port under a plastic flap.
Features
While the cream of the crop features such as ANC, Adaptive Sound Control, and Ambient Mode, are set aside for more premium Sony offerings, the WI-SP510 does have quite a few nifty features that most users look for in 2020. Firstly, since this is a sports pair of in-ear headphones, it comes with an IPX5 water resistance rating which means you can use these earphones in the gym or in heavy rain (as per Sony) without having to worry about it. Sony even claims that these earphones can be washed after an intense workout session!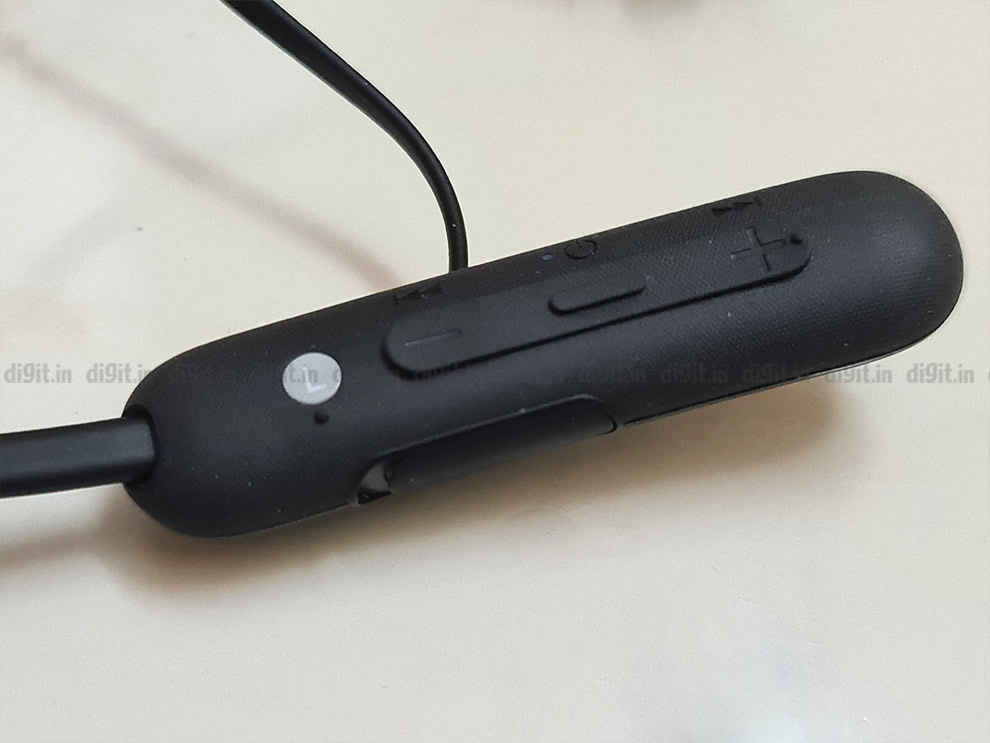 Furthermore, the earphones allow users to access their device's voice assistant via onboard controls. Simply double-tapping the middle multifunction button will summon Google Assistant or Siri. Users can also make and receive calls handsfree, and as mentioned above, control music and media playback via the onboard controls.
Powered by Bluetooth 5.0, the Sony WI-SP510 has a company rated wireless range of about 33 feet. In the limited testing we could conduct due to Covid-19, we saw that the earphones sport pretty decent wireless range. We could go from one end of a 400sqft house to another, without the range cutting off. However, if you put a wall or two between the earphones and the source device, the connection does falter. The earphones also support AAC codec apart from the standard SBC, which Android users can make use of. However, it does not come with aptX support, unfortunately.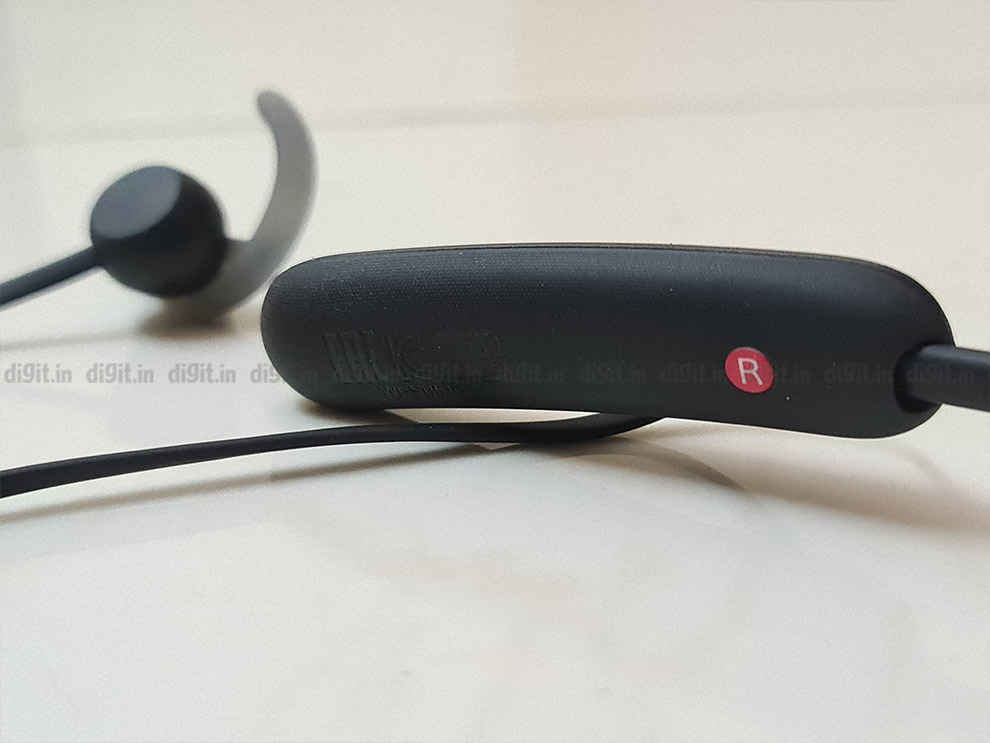 With the Sony WI-SP510, users also get a sizable battery life of about 15 hours, as per the company, which is on the higher side for wireless earphones. In our tests, at about 60-65 percent volume, the earphones lasted 14 hours and 30 minutes approximately, which is quite exceptional. Charging up the headphones is a speedy affair as well, a mere 3 hours of charging gets the earphones back up from zero battery to full charge.
Performance
Sporting 12mm drivers, the Sony WI-SP510 offers a relatively pleasing sound profile and good audio reproduction. However, there's a serious chink in the armour of these earphones. The noise floor (amount of white noise produced by the headphones) is inexplicably high, especially for headphones from a brand like Sony. So, due to this unfortunate but major flaw, we have to advise users who listen to lots of podcasts, audiobooks, and quieter genres of music, to steer clear of these headphones, since the relatively jarring white noise could bother you (like it bothered us during our tests).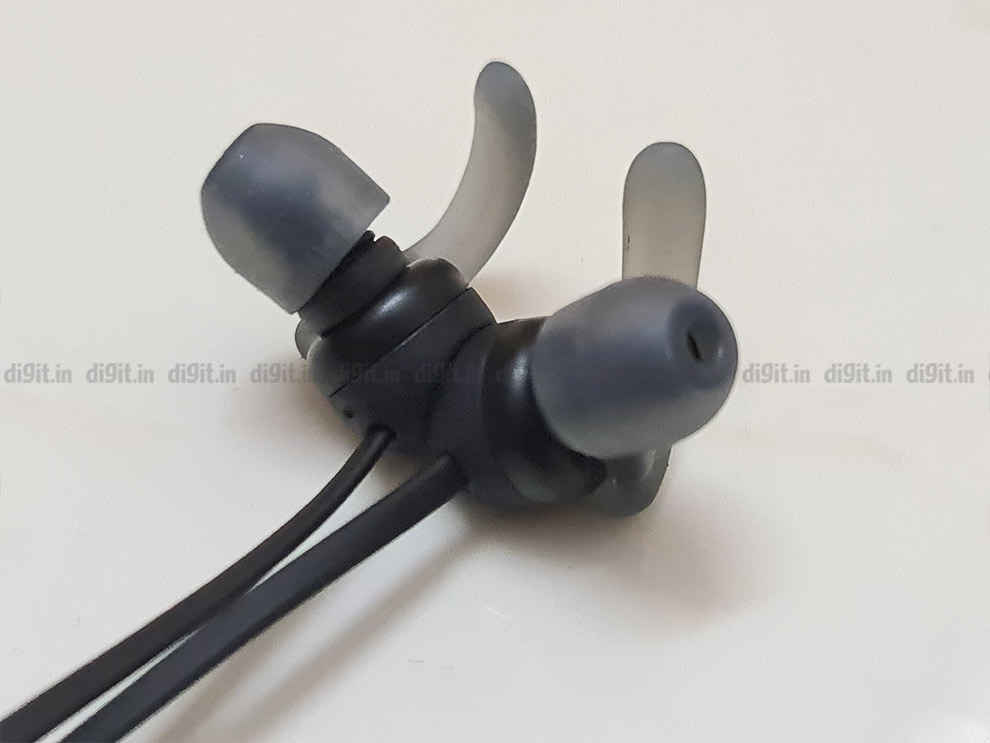 Now, most headphones do have a small amount of noise, but the amount of noise present on the WI-SP510 is much more than most of the modern-day wireless offerings and will definitely stand out. The noise is the most noticeable when you pause the music/media and when you power on the device. Basically, when nothing else is playing, however, it is even noticeable during quieter music and films, audiobooks and podcasts. However, if you mostly listen to loud music, the noise will not be too noticeable.
Now, coming to the sound quality of the Sony WI-SP510, we quite enjoyed the warm and pleasing sound profile of the headphones. They're definitely more lows and bass-oriented, however, even the bass has character and control. It isn't murky or muddled in any manner, which we liked. The mids are well-produced as well, with vocal-centric tracks such as Hello by Adele or Rescue Me by OneRepublic sounding dynamic and lively, while still maintaining detail.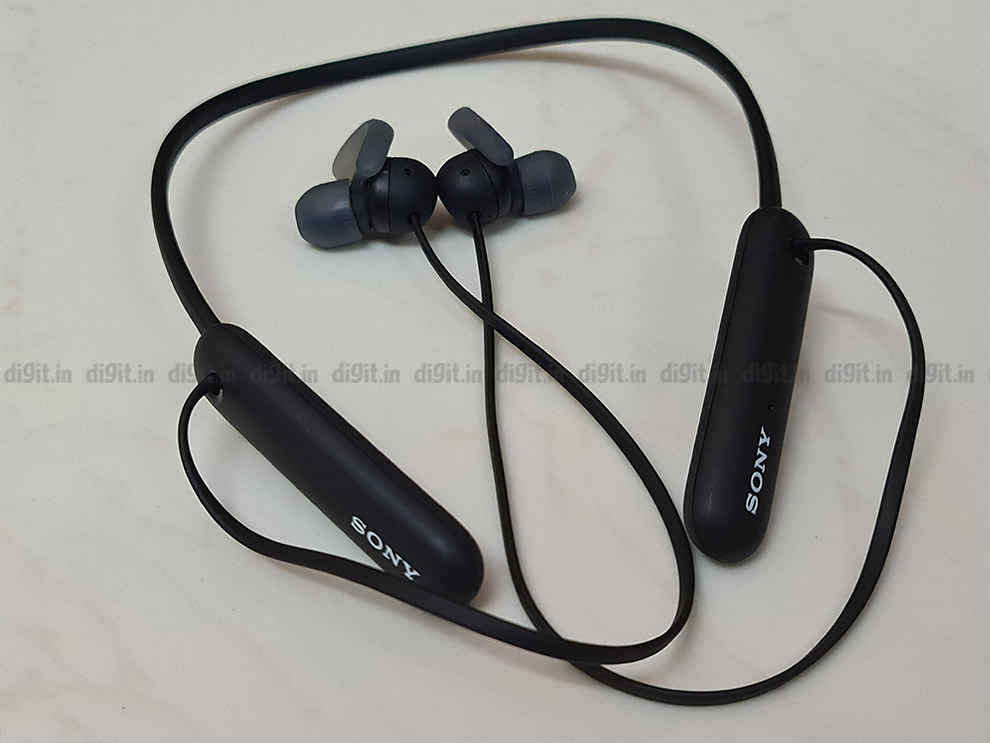 The highs are decent, but nothing to write home about. In the track Hysteria by Muse, the cymbals sounded energetic but at higher volume levels it did get a bit distorted. Imaging on these headphones is great as well. In crowded tracks such as Selkies by BTBAM which feature an array of instruments, you can still make sense of the chaos and somewhat place instruments. However, the soundstage is a bit lacking.
Microphone quality is pretty decent as well. During calls, the voice sounds ever-so muffled at times, but that could very well be a network issue and not a microphone issue. We also tried voice recording a paragraph and speech intelligibility through the microphone was pretty good as well, with only a few words being eaten up or picked up incorrectly.
Bottomline
Priced at Rs 6,990, and especially at a discounted price of Rs 4,990, the Sony WI-SP510 is no doubt one of the better-sounding wireless mid-range earphones. However, the noise floor is far too high and users that consume a lot of podcasts, audiobooks and softer genres of music may find this quite jarring and even distracting. If this is not an issue for you, there's a lot to like about the headphones. You get a pretty robust build, solid battery life, intuitive controls, IPX5 rating and good sound quality. 
[ad_2]

Source link